The plugins are like the mayonnaise that we add to the fries. And if it's free, it's even better!
Here is a collection of free plugins For Vegas Pro, I hope this list will increase over time.
AAV COLORLAB
6-vector color corrector.
AAV ColorLab is a free plugin that gives you hardware accelerated effects for Vegas and Movie Studio. It uses the graphics card to offload the CPU, which can lead to massively faster rendering times and smoother previews!
→ http://aav6cc.blogspot.com
---
DAVITOOLS VIDEO WALL v1.1.1
Create a video wall effect.
→ Download
---
NEWBLUEFX CARTOONR
Create cartoon effect from video.
→ Download
---
---
MAGIC BULLET QUICK LOOKS FREE
A free and simplified version of Magic Bullet Quick Looks.
Here the legendary version: MagicBulletQuickLooks_64_7_2_v1.4.3
→ Download
---
SeMW AUTO LEVELS
Auto Levels is an OpenFX video effect that stretches the signal levels of the input frame to their full range – either uniformly over all color channels or for each channel independently.
→ https://www.semw-software.com/en/autolevels
---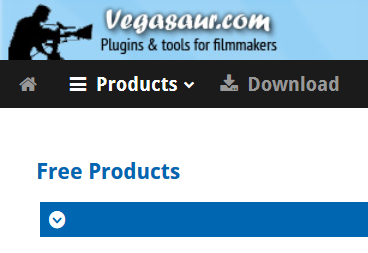 ---
---
NEWBLUE FX PRIME
It's possible to get some Newblue FX for free:
The Prime bundle coming with Avid Media-Composer First.
What's in NewBlue Prime? 17 Effects and transitions.
Compositing – Transform scenes by replacing green screens, adding pictures to the frame, or simulating camera jitter.
Color Correction – Modify the color characteristics, lighting, and saturdation to create a unique mood or look.
Transitions – Add motion and light to your scene-to-scene cuts and keep your audience engaged.
Here how to to.
Go on the Avid page: https://www.avid.com/media-composer
Then: → Media Composer | First → Get now for free → Create an account (or connect).
Once done, go in your Avid account → My Products → Permanent product → Product details and download links Display.
Here you get your license number of NewBlueFX | Prime and the download link.
Keep your license number on your computer in case of Avid change idea.
Once downloaded, install it and activate it.
It's all.
---